Skywatchers Biography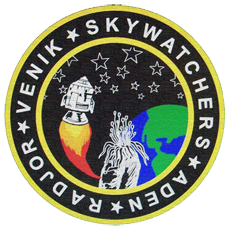 SKYWATCHERS is the result of a chance meeting.
Whilst hiking through the hills of Derbyshire looking for inspiration, I Monster chanced upon
an old abandoned observatory. From within its walls they heard an aching, most haunting sound.
Inside, amid the broken bottles and discarded detritus of the modern age, was a strange young man.
He was slightly disheveled, attired in a curious "star spotters" jacket and NASA baseball hat.
He peered longingly skywards through a hole in the observatory roof where once a great telescope
had gazed. He strummed a guitar and sang a melancholy hymn to the heavens.
A bond was forged.
A band was formed.
SKYWATCHERS are Kevin Pearce, a gifted troubadour from Manningtree in Essex,
plus Dean and Jarrod from Sheffield alternative pop band I Monster.
Kevin sings and plays guitar. Dean and Jarrod play a million vintage keyboards, bass, guitar,
and drums. Sheffield's Mike Ward adds extra saxophones, clarinet and flute.
The band love outer space. They'd love to be astronauts.
SKYWATCHERS have an album.
It is called THE SKYWATCHERS HANDBOOK.
It is a story of escape from the gravity of the Earth to the weightlessness of space. It begins in a field of
lonely Victorian flowers. Electronic and scientific pulses cross-pollinate with the vibrations of bucolic
wooden instruments. The old and the new. The wood and the alloy.
This is the sound of SKYWATCHERS.
Ten tracks.
Thirty-six minutes and fifty seconds.
The time it takes to reach space.
Keep watching the sky…