'Serves Me Right', the first single from The Skywatchers Handbook, is set for digital release February 21, 2001.
The tracks are:
Serves Me Right (single mix)
The Fool And The Star
Serves Me Right
(Serves Me Impeccably Mix by Unit Delta +)
Serves Me Right
(Remixed by Saint John Chadwick Junior School)
The digital download booklet contains nine new creepy landscapes by Varrod Skywatcher.

'Serves Me Right' promo message:
SERVES ME RIGHT PLUG by skywatchers

Each week leading up to it, White Label Music are giving away a pair of free tickets to the E.A.R Festival (February 18 & 19).
The weekly question will be posted on WLM's Twitter. The answer to each question can be found somewhere on the White Label Music website.
This week's question: Autorotation's new EP due out on the 21st of Feb 2011 is called?
Hunt around, and when you think you've got it, submit your answer. An entry will be drawn each Thursday and the winner notified by email.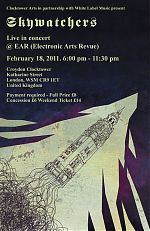 Skywatchers will be headlining the Friday lineup at the E.A.R Festival in Croydon on February 18th, 2011.
Friday 18th February 2011 6pm-11:30pm
Croydon Clocktower
Katharine Street
London, WSM CR9 1ET
Friday: £8 | Weekend: £14
(BUY TICKETS)