Just a reminder that Skywatchers have two gigs this weekend as part of The Eccentronic Revue. Four bands play each night with Skywatchers and The Chanteuse & The Crippled Claw double-headlining.
The first is at the Queens Social Club in Sheffield on Saturday January 22nd. The Chanteuse & The Crippled Claw (featuring Candie Payne & Kings Have Long Arms) headline this night in their debut live performance.
The second show is at The Deaf Institute in Manchester on Sunday January 23rd. Skywatchers headline this night.
If you come to either show and get any nice pics, send them in and we'll put them up!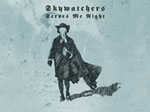 Skywatchers are gearing up to release the first single from The Skywatchers Handbook, 'Serves Me Right.' The package features a new mix of SMR, plus two / three quite different remixes and a brand new track called 'The Fool And The Star'. The digital download booklet features some wintery and quite creepy artwork. More on this very soon…
In the meantime, click to see a tiny teaser of the booklet.

Parlez-vous français? Oui? Then check out this review of The Skywatchers Handbook by French website Papercuts.

Über Röck has a nice review of The Skywatchers Handbook.
Skywatchers – 'The Skywatchers Handbook' (Twins Of Evil)
by Russ P
I've yet to start this review and I'm already getting sidetracked. It all started when I found out that this here CD and this here band are the result of the coming together of I Monster with singer/guitarist Kevin Pearce. And then I started thinking of Oompa-Loompas…

A nice review of our album by The Music Fix:
The Skywatchers Handbook is a little gem of an album. I liked it immediately upon glancing at the track listing with titles like 'Dead Flowers For Her' with its beautiful tristeesse, the funerial 'Soul Baptist', and the mournful 'Rhythm of Ashes' appealing to my morbid sensibilities. 'Serves Me Right' stands out from its gloomy cohorts with its insistent percussion and electronic beats adding vim and vigor to the song's infectious melody but, overall, these are songs to wallow in sweet misery to. The Skywatchers may not have rewritten the book on moody melancholic music, but they have certainly added some interesting chapters. 7/10